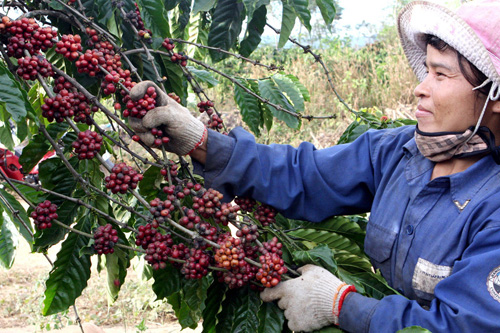 November 10, 2022
HANOI — Despite inflation and trade difficulties, Việt Nam's coffee exports have recorded strong growth, according to experts, who expect a record US$4 billion in export value this year.
According to the Ministry of Agriculture and Rural Development (MARD), coffee exports in the first nine months of 2022 reached nearly $3.1 billion, up 37.6% from the same period last year. Export coffee prices increased by nearly 22% to average around $2,280 per ton.
MARD data showed that the European Union (EU) remained Việt Nam's largest coffee consumer market with a market share of 39% in the first eight months of the year, reaching nearly 490,700 tons worth $1.1 billion, an increase of more than 27% in volume and more than 54% in value compared to the same period a year ago.
According to the Institute of Policy and Strategy for Agriculture and Rural Development, in the EU, coffee exports from Việt Nam to markets such as Belgium, Spain, the Netherlands, France and Portugal rose sharply compared to the same period last year. Although inflation has reached its highest level in 20 years, coffee exports to the EU have still increased significantly.
The institute pointed out that coffee is an essential commodity, an indispensable drink of Western countries, and the tariff reductions of the EU-Việt Nam Free Trade Agreement (EVFTA) also bring great benefit to coffee exporters on this market.
Phan Minh Thông, Chairman of Phúc Sinh Joint Stock Company, said, "Coffee, like food, is an essential commodity for many countries, however difficult the demand is yet to be met. This has spurred the growth of this article.
Besides the EU, the amount of coffee exported to other markets has also shown impressive growth, including Russia up 17.3%, the UK up 57.9%, India up 116% and Mexico 52 times. In general, coffee exports to major markets have increased as demand recovers from the COVID-19 pandemic, while global supply has tightened due to poor harvests and supply bottlenecks. supply chain in some major producing countries.
Notably, the UK was the fifth largest coffee consuming market in Europe, after Germany, Italy, France and Spain. Việt Nam's coffee exports accounted for a large share of UK coffee imports, rising from 16.3% in the first six months of 2021 to 29.9% in the first six months of 2022, according to MARD data.
In the first eight months of 2022, Việt Nam's coffee exports to the UK market reached 34,700 tonnes, worth $70.7 million, up 57.9% in volume and 84 .2% in value compared to the same period in 2021. Free Trade Agreement between Việt Nam and the United Kingdom and Northern Ireland (UKVFTA) helped boost export turnover of coffee to the UK market, experts said.
When it comes to the United States, the country still has a strong demand for coffee. Statistics from the U.S. International Trade Commission indicate that in the first six months of 2022, U.S. coffee imports reached 833,960 tons, worth $4.68 billion, up 5.4 % in volume and 51.3% in value compared to the same period in 2021. The average Vietnamese coffee import price in the United States reached $5,615/ton, up 43.5% from compared to the same period in 2021.
In terms of supply, the United States increased coffee imports from major suppliers Colombia, Việt Nam and Guatemala, but reduced imports from Brazil and Honduras, the data showed.
In the Chinese market, instant coffee and ready-to-drink coffee are capturing a large market share thanks to their ease of use. The demand for coffee in China is growing at an average rate of 15% per year.
Nguyễn Nam Hải, chairman of the Vietnam Coffee and Cocoa Association, said that while other markets mainly import green and raw coffee, China tends to import instant and processed coffee products. Therefore, Vietnamese companies could focus on this segment to increase added value.
Phan Minh Thông said the growth in coffee exports was also due to the fact that the world supply in the 2021/2022 campaign was lower than demand, as the world's largest coffee supplier, Brazil, reduced its coffee production. .
"The Brazilian Coffee Exporters Association (Cecafe) forecasts that the country's coffee stocks will only reach 7 million 60kg bags in March 2023 and will be a record level for the world's largest coffee producer," said Thong.
Meanwhile, he said that Việt Nam was about to enter the 2022/2023 coffee harvest season and the expected coffee production could increase by 10% during the season.
MARD data showed that local coffee yield increased from 23.5 quintals/ha in 2011 to 28.2 quintals/ha in 2021 and production decreased from 1.27 million tons in 2020 to 1, 81 million tons in 2021. Currently, Việt Nam's coffee yield was more than three times higher. higher (2.8 tonnes/ha) than the world average coffee yield (0.8 tonnes/ha).
"The market demand for sustainable products is increasing sharply, even by 100% every year, so this is an opportunity for companies to produce and export coffee in particular and agricultural products in general," Thông said.