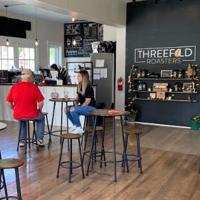 ALBANY – When people hear of Albany, Ohio, they may only think of a quiet little town and home of the Alexander Spartans.
However, a couple are bringing attention to Albany with their new cafe, Threefold Roasters, and also paving the way for other small businesses.
Mckenzie Yazdani and her husband Josiah, owners of Threefold, both grew up in Albany and are still in love with the area today. Community was a big part of Yazdani life growing up, and because of that, the couple wanted to find a way to give back. They saw a clear need for a place where the community could gather, and so Threefold Roasters was born.
"God just kind of opened the doors and led us to this building and this cafe, and the rest is history," Mckenzie Yazdani said.
The name Threefold Roasters comes from the Bible, specifically from the verse Ecclesiastes 4:12, "And if one prevail against him, two will resist him; and a triple cord does not break quickly. This is an important verse for the Yazdanis because it applies to many things they do.
"When we entered into marriage, we entered with the three of us, into God. We wanted that solid foundation, and when we decided to open a business, we thought it was only fitting to walk with the three of us as well," Mckenzie Yazdani said.
The store is located at 5281-A Washington Road in Albany, in a rustic building near the post office. Originally, the Yazdanis planned to operate their business in the building that was once John's Barber Shop, which is positioned diagonally from Threefold. They bought the building from the owner, John Swearingin, who ran the barber shop for 60 years.
However, that plan wasn't quite the direction they ended up going. Their best friend, Gregg Montella, owned the building they currently operate out of, and he thought his building would be a perfect fit for them. Montella told them that even though they had just bought Swearingin's building, they should come take a look at his. The Yazdanis took one look at the building and knew it was the one.
"The day we got the keys to John's and signed on to this building, we decided to move the cafe here," Yazdani said. "Now we have a working room in the building we bought."
Under these unique circumstances, the Yazdanis managed to add two businesses to Albany while creating one.
Threefold's building was built in 1912, but the foundations are even older. In 1911, its side of the street was swept away by the Albany fire of 1911. After that, the building was rebuilt on the original foundations in 1912. In the following years, two grocery stores operated in the building and eventually became a florist's shop. Today it's a popular new cafe, but the decor of the shop matches the old wooden floors and the shape of the building's interior.
"We all want to keep the historic part of the building here," Yazdani said.
People from as near as Athens and as far away as Vinton County came for a cup of coffee. Small children, Ohio University students, and seniors all came to the store, representing a wide range of customers.
"I think that has been our greatest asset is that we have created an environment and an atmosphere that is open to everyone," Yazdani said. "We continue to welcome new people, we have established a good base of amazing regulars and I couldn't ask for anything more, it was amazing."
Other small businesses in Albany have also been very supportive of Threefold's efforts. The Albany Cafe, Ray's Harvest House and J&K Contracting have shown their support. Additionally, other local cafes helped Yazdanis before they opened. Donkey Coffee and Court Street Coffee in Athens and Oasis Coffee Shop in Logan shared tips and experiences to help Threefold get started successfully.
According to a study by the Small Business Administration, two-thirds of small businesses that have employees last about two years, and half about five years. That probably won't be the case with Threefold, because ever since Threefold poured their first cup of coffee, the community has showered the Yazdanis and their staff with love. While the goal was to give back to the community, they ended up receiving more positivity in return.
"Sales since day one have only gone up," Yazdani said.
As business owners, the most important thing for Yazdanis is the customer. They put community first from the start and sought to create a place where the community could come together in a safe environment, no matter who they are. Guests are encouraged to stay as long as they wish, to sit down, read a book, do their work, or just hang out. Everyone is welcome and the Yazdanis are grateful to their customers.
Albany residents aren't the only ones going crazy for coffee. In a recent study by the National Coffee Association, 66% of Americans drink coffee every day, an increase of about 14% since January 2021. The amount of coffee Americans drink away from home has also increased since then. by about 8%. Judging by these statistics, it's time to open a cafe, especially in a small town.
"It's amazing to have a real cafe in Albany," said Jerry Crow, a local Albany resident and regular at the shop, who has been coming since Threefold's first day of opening. "There's not really much going on in Albany right now, so hopefully that starts something good for Albany as well."
It absolutely started something good. Yazdani said several people came to Threefold and told him they were considering setting up other small businesses in Albany, and even considering running them in other historic buildings nearby.
The Yazdanis are grateful for their loving community, but they are also very grateful for their staff.
"They are amazing, they work hard and they want to be here," Mckenzie Yazdani said.
Macy Mitchell, a 19-year-old employee at Threefold, said working there reminded her of the saying, "If you do what you love, you'll never work a day in your life." She doesn't see making coffee every day as a job, but rather as an opportunity to spend time with her "family" at Threefold, interact with customers and meet new people on a daily basis. Mitchell said the difference between Threefold and other jobs she's had in the past is how accepting and welcoming people are, and how the Yazdanis made sure she was properly prepared for the job. .
"The best part is watching people walk out of the store with a smile on their face, which makes me believe I did my job," Mitchell said.
From lattes to smoothies, Threefold tries to have a wide range of drinks so everyone has something they like. Mckenzie Yazdani created the menu and everything is unique to their shop. Currently, their most popular drink is the sugar cookie latte.
In addition to using original recipes, they have a featured drink every month. A customer or employee will create a drink and Threefold will sell it for the month. Earlier this year, a client created a drink that was so well received that it is now a permanent menu item. Threefold's current hallmarks are drinks of Alexander High School Seniors, celebrating their graduation.
Albany's successful cafe has no plans to stop any time soon, and the Yazdanis have plans for the future. Currently, they are trying to decide what is next for Threefold.
"We have a few different options that I'm not ready to share yet. They are still on the drawing board, but we have a lot of different avenues we could take right now," Mckenzie Yazdani said. "There are going to be some fun things to come in the future, so watch."
Luke Duncan is a student journalist with the Tri-County Career Center and the high school Sports Journalism and New Media program.