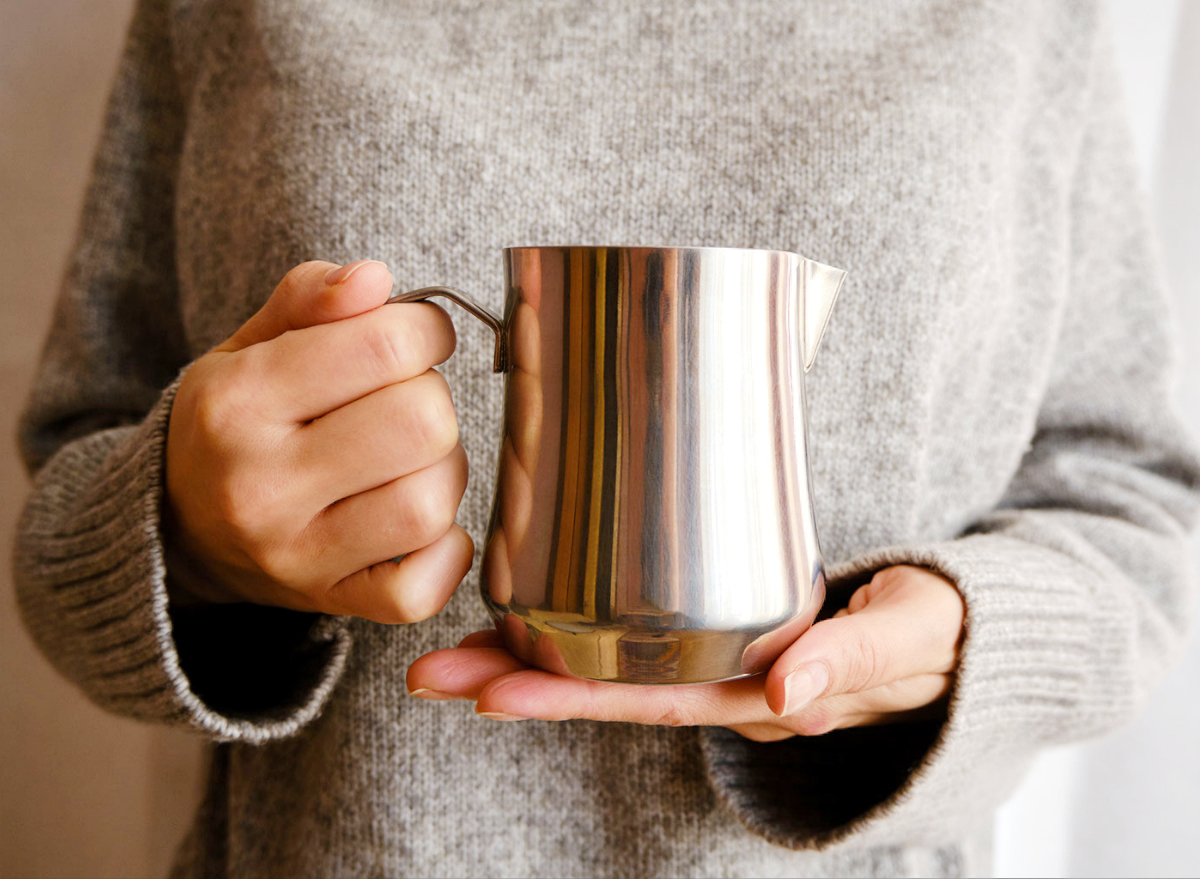 [ad_1]
Shortage rumors probably won't capture your interest, unless they directly affect one of your favorite foods or drinks. Well, this week among the 80% of people who regularly drink coffee, many grocery shoppers recently found that a shortage was hitting near their homes when they went to stock up on a basic accompaniment. for their infusion. If you are going to the grocery store, here is the basic coffee that you may have to look hard for.
Last week, a reader from one of the mid-Atlantic states contacted Eat this, not that! to share that they would run into a 50/50 shortage at one location in a regional supermarket chain.
RELATED: It's America's Best Supermarket, New Poll Finds
When inquiring with store staff, an employee mentioned that there was a growing 50/50 shortage and suggested they look in the local big box store. There the customer found the refrigerated shelves in the dairy section mostly bare except for a single half-and-half store's private label carton that was available.
This half-and-half shortage seems to confirm the recent word of a national dairy shortage, as mentioned in Pennsylvania Lehigh Valley's Morning call. "It's a labor shortage problem," Dennis Curtin, public relations manager for Weis Markets, told the store. He added that some processors are struggling to staff their factories, which is sort of creating a bottleneck in dairy production.
What could this mean for your morning cup? If you have the time to research from store to store, this might be your best bet. Otherwise, according to Curtin, you may need to adjust your tastes slightly for a little while.
He said that when problems like this arise, "growers tighten up what they produce. For example, if a company that produces six varieties of a specific product, maybe in different sizes, they can temporarily focus on the three best-selling products and wait on the production of the three that do not sell as well.
The most important thing to do in the meantime is not to go overboard when you get your hands on that coveted half and half, according to Alex Baloga, president and CEO of the Pennsylvania Food Merchants Association. "If people continue with their normal shopping habits and don't panic, the problem will resolve itself," he said.
Subscribe to Eat this, not that! newsletter for the latest grocery news you need, delivered daily.
Have more:
[ad_2]